---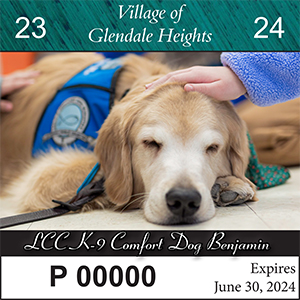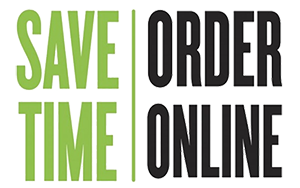 Village code requires all residents and businesses of Glendale Heights who own, operate, maintain, house, store, rent, lease, or have custody of a vehicle or series of vehicles that is/are registered with the Illinois Secretary of State to an address within the Village shall obtain a Village vehicle sticker for the current year for the use of such vehicle on any public street or highway within the village. Within 45 days of moving into the Village or purchasing a vehicle, vehicle owners must purchase and display a current Village vehicle sticker on the vehicle's lower right windshield.
Residents of the Village are required to present a valid current Illinois registration showing that the vehicle is registered to them at their Glendale Heights address, or acceptable proof of address, prior to obtaining a vehicle sticker. Adequate proofs of residency include a driver's license, utility bill, or lease. Residents who bring home a business vehicle are required to provide a letter on company letterhead indicating to whom the vehicle is assigned with their home address as proof of residency and registration. Failure to provide proof of residency of a Village address will result in sticker cost to be doubled.
Vehicle stickers for new vehicles or new residents must be purchased in-person at the Finance counter at Village Hall. In order to obtain a sticker, please provide:
Proof of residency
The vehicle's registration or insurance card & license plate number
If this is for a new car ONLY: A bill of sale or proof of purchase that shows the vehicle was purchased within the past 45 days.
If this is for a new resident ONLY: A lease or closing document that shows the resident has moved in within the past 45 days.
Per Village Ordinance, overnight parking on Village streets is restricted to those vehicles having a valid vehicle sticker.
Between May 1st and May 15th of each year, the Village mails vehicle renewal applications for all vehicles which hold current vehicle stickers. The renewal application must be completed and mailed back, or processed in person at the Village prior to the deadline of June 30th. Vehicle stickers are valid from July 1st through June 30th of the following year. Important: failure to receive a license renewal application does not exclude late applicants from late fees or associated fines. We strongly recommend purchasing your stickers early and online to avoid long lines and penalties (see "Online Renewals" below).
Residents and businesses who fail to purchase and display a vehicle sticker for their vehicle(s) by midnight of the due date will be subject to late fees and citations.
Stickers are issued at no charge (one to a household) to the following:
Disabled Veteran (with DAV Plates).
Disabled residents with proof of disability from the Social Security Administration.
Senior Citizens, 62 years of age and older with proof of age.
Glenside and Bloomingdale Fire Protection District Volunteers.
SCHEDULE OF FEES
Passenger Vehicles
$15.00
Motorcycles
$12.00
Recreational Vehicles
$18.00
Trucks by Plate Type
B - $25.00

D - $35.00
F - $55.00
H - $60.00
J, K - $70.00
L, N, P, Q - $75.00
R, S, T - $80.00
V, X, Z - $100.00

License Transfer

$1.00
Social Security Disability
$0.00
* Senior Citizen (62 or older), 1st sticker
$0.00
* Senior Citizen (62 or older), 2nd sticker
$5.00
* Senior Citizen rate applies to a person 62 or older, by May 31st of the current season. Current driver's license must be furnished. A second senior vehicle sticker is $5.
Online Renewals
It's fast, easy and secure. To renew online, you'll need your application number found on your vehicle sticker renewal form. Zero-dollar renewals must be purchased by mail or in-person. If you wish to purchase a sticker for a new vehicle or are obtaining a Free/Exempt Senior Citizen sticker, see "Buying In Person". Vehicle stickers will be mailed within 5 business days of payment.
Buying In Person
If you'd rather buy your sticker(s) in person instead of online or by mail, or need to provide proof of residency, you can do so at Village Hall during regular business hours, Monday through Friday, between 8:00am and 4:30pm. For your convenience, Village Hall will be open on the last Saturday in June from 9:00am to 12:00pm. As a convenience to senior citizens, stickers may be obtained at the Center for Senior Citizens, Monday through Friday from 7:30am to 5:00pm.
Late Payment Penalty
If you fail to purchase a vehicle sticker by the due date, a $10 penalty will be applied to your purchase; a $20 penalty will be applied after 30 days thereafter, and a $30 penalty will be applied 60 days thereafter.
For more information, please contact the Finance Department at 630.260.6000.