---
The Village of Glendale Heights operates both a sanitary sewer and storm sewer system. In order to best maintain and operate our infrastructure, it is critical to have a full understanding of the size, needs and condition of the sewer systems. Since this infrastructure is underground, the inspection is done by video camera, also referred to as closed-circuit television (CCTV). Village staff performs this task in house and conducts the CCTV inspection and assessment of the 83 miles of sanitary sewer mains and 76 miles of storm sewers. A camera will be run through every foot of pipe in the Village, equaling about 159 miles. In addition to collecting video data of the sewer systems, Village crews will be assessing the condition of the infrastructure, and document it's exact location for the city's GIS mapping system. Once the data is collected, the Village will conduct a risk analysis to prioritize areas for maintenance/repair and replacement in order to operate our systems most efficiently.
All of the drain pipes in your house are connected to one central sanitary sewer drain that goes through the foundation wall and out to the Village sanitary sewer main in the right of way or street.
The pipe coming out of your house is generally referred to as a "service" or "lateral" and is the responsibility of the property owner from inside the house to where it connects with a larger sanitary sewer main. The sanitary sewer main maintenance and repair is the responsibility of the Village.
The private sanitary sewer services (pipe between the house or building to Village sewer main) will not be inspected by Village crews, as it is the private property owners' responsibility to maintain and repair.
One drain is the same as another right? A sewer is the sewer, right? Not so! It is important to understand the difference between sanitary sewers and storm sewers so we can prevent unnecessary environmental damage.
The sanitary sewer is a system of underground pipes that carries away sewage from bathrooms, sinks, kitchens and other plumbing components in a residence or business to the Village sanitary sewer collection system and onto the Village wastewater treatment plant where it is then filtered, treated and discharged to the local DuPage river branch.
The storm sewer is a system designed to carry rainfall runoff and other environmental drainage. It is not designed to carry sanitary sewage or accept hazardous wastes. The runoff is carried in underground pipes or open ditches and discharges into local streams, rivers and other surface water bodies. Storm drain inlets or catch basins are typically found in curb lines and low-lying outdoor areas.
The CCTV inspection is being undertaken in order to gain a full understanding of the size, needs and condition of the sewer systems. It will allow the city to prioritize areas for maintenance and replacement in order to operate our systems most efficiently.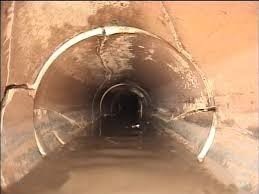 This inspection can reveal problems where the pipe is damaged or is experiencing tree root intrusion. As pipes age, they tend to become more brittle and are more susceptible to cracking as the ground shifts around them. In many cases, there are not mechanical fittings holding sections of pipe together, rather it is the soil compacted around these pipes that holds them in place. Minor shifts in soils over time may cause these joints to separate slightly. Both cases of cracking and joint separation can create an opening in a pipe that becomes attractive for tree roots seeking water. It may begin as a hairline root, but these grow and multiply, causing the crack in the pipe to become larger. Soon, a large mass of roots can develop inside a sanitary sewer pipe. The roots grow so tightly together that they can significantly block the flow of water in a pipe, creating the potential for a backup.
Common issues that may occur in the sewer systems over time may include:
Offset joints, broken or damaged pipes
Tree root intrusion
Clogs from debris
Left unattended, these issues can lead to back-ups of the sanitary and storm sewers which could cause flooding of buildings, streets and other damage. Proactive identification and repair of these issues will be the most efficient and cost effective means to maintain our infrastructure for years to come.
Village crews will be inspecting these assets and will be performing inspections of manholes used to access both systems along with video (CCTV) inspections of the pipes.
The Village uses two different camera variations to do its inspections. One variation has larger tires with an elevated camera which is used in pipes over 10" in diameter. The second variation has smaller tire configuation and is used for pipes that are 6" to 8" in diameter.
The information gathered in these video inspections will be assessed by Village crews and the Villages contracted engineering firm. Both sanitary sewer pipe and storm sewer pipe will be structurally graded and will determine what maintenance/repairs are needed within the systems. These assessments determine the severity of structural damage and consideration for repair. The sanitary sewer system and storm sewer system will need to have annual funding budgeted to make the necessary repairs and assist in upgrading the Village of Glendale Heights aging underground sewer system infrastructure.