---
While Republic Services can collect many household items for recycling, there are several items that can not be collected as part of your weekly refuse service.
Electronic Equipment
It is illegal in Illinois to dispose of electronic equipment in your weekly refuse pickup due to the possibility of containing toxic elements within the various components.
The Village of Glendale Heights is continuously looking for programs to help residents recycle their electronic equipment.
For more information on how and where to recycle your electronics, please visit the DuPage County Recycling website.
Cellular Phones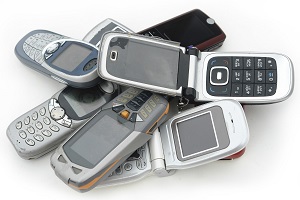 Do you have a cellular phone that is no longer used or wanted? Don't throw it in the trash; recycle it by donating it a charitable organization.
The Police department and the Center for Senior Citizens also accept donations of unwanted cell phones and their necessary accessories for use by seniors and other individuals residing in Glendale Heights who have an emergency purpose.
Expired or Unused Medications
The residents of Glendale Heights can now dispose of expired or unused medications by dropping them off in a permanent drop box located in the lobby at Village Hall.
The permanent RxBOX drop box is available to the public during normal business hours. There is no charge to residents to drop off your medications. The Village's pharmaceutical disposal program is intended to help reduce the potential for misuse of medications. The program helps to reduce safety concerns that may occur with accidental ingestion of medication by children in a household and is one way to help address the growing issue of prescription drug abuse by teens. The program is also intended to reduce pharmaceutical threats to our water supplies or waterways after disposal.
Batteries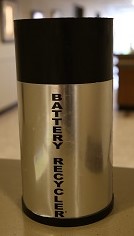 Don't throw out used batteries in the trash; recycle it! Did you know that batteries contain potentially hazardous elements and metals such as zinc, nickel-cadmium, nickel metal hydride, and lithium that cause unnecessary heavy metal contamination to the planet?
The Village of Glendale Heights collects batteries at the Sports Hub and Civic Center Plaza counters.
Fluorescent Lightbulbs
CFL bulbs contain mercury and they must be disposed of properly. You may drop off your used CFL bulbs for recycling at the most Home Depot locations, or visit Earth 9-1-1 for more recycling locations.
Oil Based Paint, Paint Thinners, Stain and Varnish
Oil based paints, stains and thinners are toxic. Through a program funded by the Illinois Environmental Protection Agency, residents may drop-off unwanted oil based paint at the Household Hazardous Waste Facility, located at 156 Fort Hill Drive, in Naperville. This is a drive through, drop-off facility open Sat/Sun 9:00am-2:00pm; except on holidays. For more information, visit the Household Hazardous Waste Facility website or call 630.420.6095. You may also visit the Illinois EPA website for additional information.