---
The Center publishes a quarterly activity guide which provides information on the activites available to seniors.
Special Events
Looking for a chance to get out and socialize? Check out the activity guide to learn about the Center's special events including themed-events related to holidays and the seasons.
Weekly Regular Activites
The Center offers weekly regular activities including BINGO, Pinochle Club, knitting, crocheting plus many more!
Additional Regular Activities
Additional regular activities that occur on a monthly basis include Bookworm Book Club and Readers Theater.
Community Dining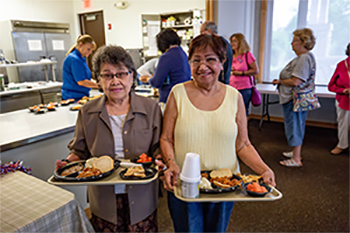 On Mondays and Wednesdays, the Dupage Senior Citizen Council (DSCC) serves lunch to older adults at the Senior Center. Community dining is available to seniors 60 and better with a suggested donation $5. Persons under 60 can participate at a cost of $7.00 per meal.
Deli-style meals are featured on Mondays at 11:30am, and hot meals on Fridays at 11:30am. Meals are also offered each Wednesday after bingo, featuring a fun different lunch each week! Check out the monthly menu and reserve a spot at the table by calling 630.620.0804 x320.
Have lunch at the Senior Center and listen to speakers deliver a variety of topic. For a schedule of upcoming Lunch and Learn events, view our activity guide!
The Center for Senior Citizens offers a variety of classes with topics including computers and arts & crafts. For a schedule of upcoming classes, view our activity guide!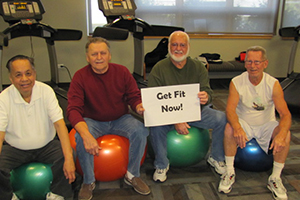 The Senior Fitness Center located at the Center for Senior Citizens has several ammenities including state-of-the-art life fitness equipment with push-button controls. The equipment is easy to use and offers simple, enjoyable workouts and visible results that will inspire you to come back week after week. You can Watch television while walking on the easy to use treadmills or use the recumbent lifecycle bike. Free weights and other exercise equipment are also available. Physician's permission is recommended for all fitness programs.
Annual Individual Senior Fitness Center Membership
$125 Senior Center Member

Annual Couples Senior Fitness Center Membership
$200 Senior Center Member Couples

Monthly Fitness Center Membership
$12 Senior Center Member

Annual Individual Combination Membership
$170 for Center for Senior Citizens and Sports Hub
For more information on the latest fitness activities offer at the Center for Senior Citizens, check out our activity guide!