---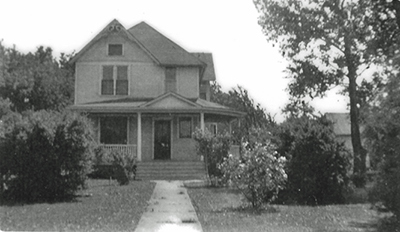 The Glendale Heights Historic House, originally located on Bloomingdale Road, was built in 1888, on property adjacent to what is now the Illinois Central railroad line, and was home to several farm families for 75 years.
In 1920, the Baier family purchased the house and the 73-acre farm it sat on. In the 1970s, Harold Reskin, the founder of Glendale Heights, moved his Midland Enterprises business offices to the old farm house, and painted it purple, his wife Merle's favorite color.
In 1996, Harold died after a long battle with cancer. After his death, Harold's wife Merle informed officials that Harold wanted to donate one more thing to the Village he founded and helped to build: the old farm house he used for the offices of Midland Enterprises.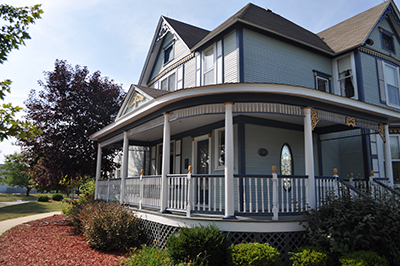 After the old farmhouse was donated, the Village moved it in 2000 to it's present location of 311 Windy Point Drive, and began the work of desperately needed restoration. Following several fundraising activities by the Historic Committee, restoration of the exterior of the old farm house was completed in 2002. In 2004, the house was dedicated in memory of Harold Reskin, and Merle Reskin herself was present to cut the ribbon!
As part of the 50th Anniversary, a grand re-opening of the Historic House was held October 11, 2009. Interior work on the Historic House was finally finished to restore its turn of the century charm. The house includes a display area that tells the rich history of our community dating back to the original settlers to the present.
Descendants of the Baier family, now living in Wheaton, are excited that the Village restored their old family farm house and have provided the Village with a lot of information about our Historic House and the family that once lived there.
The Village proudly conducts tours of the Historic House during the summer. For more information, please call the Mayor's office at 630.909.5303.